Get Well Flowers
Nothing says "Get Well Soon" like a vibrant bouquet of fresh flowers! Look no further for get well gifts than Cummings Florist. We deliver get well flowers to Massillon, OH or nationwide to brighten their day. They'll be sure to get well soon!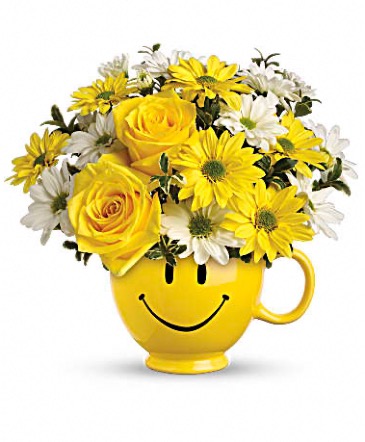 TELEFLORA'S BE HAPPY® BOUQUET WITH ROSES
Ceramic mug arrangement
There are probably a million reasons this is such a popular bouquet. Of course, there are probably just as many reasons to send this cheerful arrangement. Full of happy flowers, this ceramic happy face mug will bring smiles for years to come. Especially when filled with that first cup of morning coffee or cocoa! Yellow roses, spray roses and daisy spray chrysanthemums along with white daisy spray chrysanthemums and oregonia are delivered in the one and only Be Happy® mug.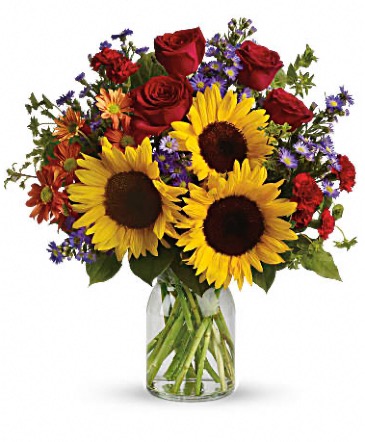 Hospitals and Health Care Providers in Our Delivery Area:

| Name | Address | Phone |
| --- | --- | --- |
| Amherst Meadow Apartments | 1602 1st St Ne Massillon, OH. 44646 | (330) 833-0610 |
| Aultman Immediate Care | 2021 Wales Ave Nw Massillon, OH. 44646 | (330) 830-5523 |
| Aultman West | 2021 Wales Ave Nw Massillon, OH. 44646 | (330) 834-1111 |
| Chemical Dependency Services Massillon Community H | 875 8th Street Ne Massillon, OH. 44646 | (330) 830-6987 |
| Columbia Mercy Jackson Health | 7452 Fulton Dr Nw Massillon, OH. 44646 | (330) 833-4111 |
| Doctors Hospital | 400 Austin Ave Nw Massillon, OH. 44646 | (330) 837-7200 |
| Hanover House Inc | 435 Avis Ave Nw Massillon, OH. 44646 | (330) 837-1741 |
| Heartland Behavioral Healthcar | Po Box 540 Massillon, OH. 44648 | (330) 833-3135 |
| Hospitality House | 205 Rohr Ave Nw Massillon, OH. 44646 | (330) 837-2100 |
| Laurels Of Massillon | 2000 Sherman Cir Ne Massillon, OH. 44646 | (330) 830-9988 |
| Legends Care Ctr | 2311 Nave Rd Se Massillon, OH. 44646 | (330) 837-1001 |
| Massillon Community Hospital | Po Box 805 Massillon, OH. 44648 | (330) 832-8761 |
| Meadow Wind Health Care | 300 23rd St Ne Massillon, OH. 44646 | (330) 833-2026 |
| Rose Lane Health Ctr | 5425 High Mill Ave Nw Massillon, OH. 44646 | (330) 833-3174 |
| Sarah Adult Day Care Ctr | 8206 Traphagen St Nw # B Massillon, OH. 44646 | (330) 833-1782 |
| Brewster Parke | 264 Mohican St Ne Brewster, OH. 44613 | (330) 767-4179 |
| Chapel Hill Community | 12200 Strausser St Nw Canal Fulton, OH. 44614 | (330) 854-4177 |
| Gaslite Villa Convalescent Ctr | 7055 High Mill Ave Nw Canal Fulton, OH. 44614 | (330) 854-4545 |
| Altercare Of Canton | 836 34th St Nw Canton, OH. 44709 | (330) 492-7131 |
| Arbors At Canton | 2714 13th St Nw Canton, OH. 44708 | (330) 456-2842 |
| Aultcare | 214 Dartmouth Ave Sw Canton, OH. 44710 | (330) 438-6360 |
| Aultman Family Practice Ctr | 2600 7th St Sw Canton, OH. 44710 | (330) 438-6211 |
| Aultman Home | 1711 Spring Ave Ne Canton, OH. 44714 | (330) 455-0532 |
| Aultman Hospital | 2600 6th St Sw Canton, OH. 44710 | (330) 452-9911 |
| Aultman Hospital Home Dialysis | 2912 Tuscarawas St W Canton, OH. 44708 | (330) 458-0150 |
| Bethany Nursing Home | 626 34th St Nw Canton, OH. 44709 | (330) 492-7171 |
| Canton Christian Home | 2550 Cleveland Ave Nw Canton, OH. 44709 | (330) 456-0004 |
| Canton Health Care Ctr Inc | 1223 Market Ave N Canton, OH. 44714 | (330) 454-2152 |
| Canton Regency Retirement Comm | 4515 22nd St Nw Canton, OH. 44708 | (330) 477-0456 |
| Children's Hospital | 4455 Dressler Rd Nw Canton, OH. 44718 | (330) 492-1168 |
| Colonial Nursing Ctr | 1528 Market Ave N Canton, OH. 44714 | (330) 453-8456 |
| Community Based Outpatient Clinics (cboc) | 733 Market Avenue South Canton, OH. 44702 | (330) 489-4600 |
| Danner Dental | 4385 Everhard Rd Nw Canton, OH. 44718 | (330) 494-6016 |
| Emergency Medicine Physicians | 4535 Dressler Road Nw Canton, OH. 44718 | (330) 493-4443 |
| First Care | 4612 Tuscarawas St W Canton, OH. 44708 | (330) 477-6400 |
| House Of Loreto | 2812 Harvard Ave Nw Canton, OH. 44709 | (330) 453-8137 |
| Inn At Belden Village | 3947 38th St Nw Canton, OH. 44718 | (330) 493-0096 |
| Landing Of Canton | 4550 Hills And Dales Rd Nw Canton, OH. 44708 | (330) 477-5727 |
| Mayfield Manor | 3844 11th St Sw Canton, OH. 44710 | (330) 478-0055 |
| Mc Kinley Health Care Ctr | 800 Market Ave N # A Canton, OH. 44702 | (330) 456-1014 |
| Mercy Mammography Svc | 1320 Mercy Dr Nw Canton, OH. 44708 | (330) 489-1000 |
| Physicians Referral | 1320 Mercy Dr Nw Canton, OH. 44708 | (440) 835-6200 |
| Pines | 3015 17th St Nw Canton, OH. 44708 | (330) 454-6508 |
| Rosemary Park | 3425 Arden Ln Nw Canton, OH. 44708 | (330) 458-1000 |
| Sarah Adult Day Care Ctr | 800 Market Ave N Canton, OH. 44702 | (330) 454-3366 |
| Smith Nursing Home Inc | 2330 Penn Pl Ne Canton, OH. 44704 | (330) 456-9070 |
| Sterling House | 1119 Perry Dr Nw Canton, OH. 44708 | (330) 479-1121 |
| Us Veterans Outpatient Clinic | 221 3rd St Se Canton, OH. 44702 | (330) 489-4660 |
| Usa Vein Clinics | 4368 Dressler Rd Nw, Ste 101 Canton, OH. 44718 | (330) 313-3228 |
| White Oak Convalescent Home | 3516 White Oaks Cir Sw Canton, OH. 44710 | (330) 452-3035 |
| Shady Lawn Health Care Comm | 15028 E Lincoln Way Dalton, OH. 44618 | (330) 828-9514 |
| Shady Lawn Nursing Home | 15028 Old Lincoln Way Dalton, OH. 44618 | (330) 828-2278 |
| Altercare Of Navarre | 517 Park St Nw Navarre, OH. 44662 | (330) 879-2765 |
| Country Lawn Nursing Home | 10608 Navarre Rd Sw Navarre, OH. 44662 | (330) 767-3455 |
| Brenn-Field Nursing Ctr | 1980 Lynn Dr Orrville, OH. 44667 | (330) 683-4075 |
| Dunlap Memorial Hospital | 832 S Main St Orrville, OH. 44667 | (330) 682-3010 |
| Orrvilla Retirement Community | 333 E Sassafras St Orrville, OH. 44667 | (330) 683-4455 |
| Regency Park Nurse Rehab Ct | 230 S Crown Hill Rd Orrville, OH. 44667 | (330) 682-2273 |