Funeral Flowers
Flowers provide the opportunity to express how much the departed means to you. Celebrate the life of your loved one with a beautiful funeral arrangement.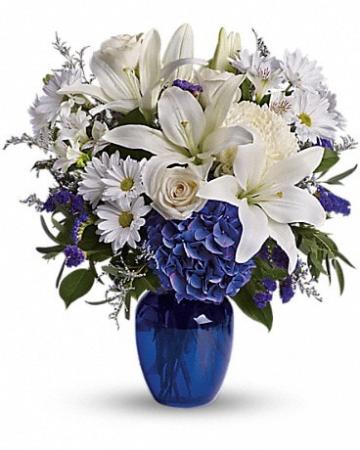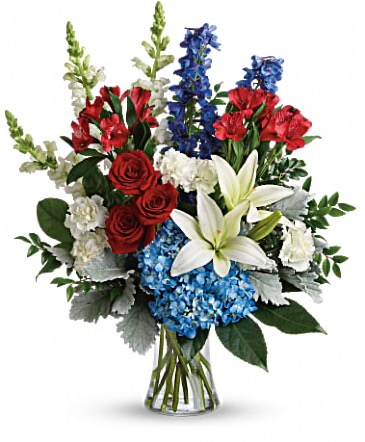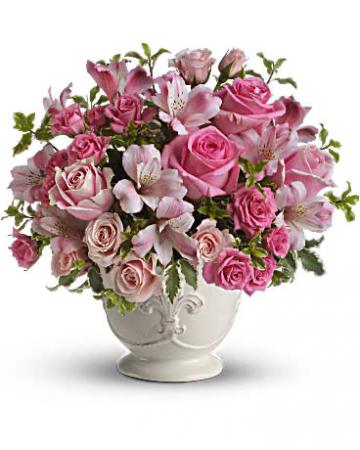 TELEFLORA'S PINK POTPOURRI
Arrangement
Send your condolences on the loss of a lovely lady with this feminine bouquet of light pink sympathy flowers. The pretty pink arrangement is a heartfelt choice. A feminine mix of pink roses, pink alstroemeria and green pitta negra.
Funeral Homes in Our Delivery Area:

| Name | Address | Phone |
| --- | --- | --- |
| Arnold-Lynch Funeral Home | 729 Lincoln Way E Massillon, OH. 44646 | (330) 833-4839 |
| Atkinson-Feucht-Shaidnagle | 26 2nd St Ne Massillon, OH. 44646 | (330) 833-4193 |
| Brooks Funeral Home | 21 South Ave Se Massillon, OH. 44646 | (330) 833-7453 |
| Heitger Funeral Home | 639 1st St Ne Massillon, OH. 44646 | (330) 833-3248 |
| Heitger Funeral Home | 5850 Wales Avenue Northwest Massillon, OH. 44646 | (330) 830-0148 |
| Paquelet Funeral Home | 320 Federal Ave Ne Massillon, OH. 44646 | (330) 833-3222 |
| Lantzer Funeral Home | Po Box 125 Beach City, OH. 44608 | (330) 756-2121 |
| Spidell Funeral Home | 209 Chestnut St Nw Brewster, OH. 44613 | (330) 767-3737 |
| Swigart-Easterling Funeral Hm | 624 Cherry St E Canal Fulton, OH. 44614 | (330) 854-2356 |
| Arnold Funeral Home | 1517 Market Ave N Canton, OH. 44714 | (330) 456-7291 |
| Cledus T Reed Funeral Home | 705 Raff Rd Sw Canton, OH. 44710 | (330) 477-6721 |
| Don Williams Funeral Home | 2508 Tuscarawas St W Canton, OH. 44708 | (330) 455-0387 |
| Earl B Jack Funeral Home | 1307 Ohio Ave Ne Canton, OH. 44705 | (330) 452-1702 |
| Eugene C Wackerly Funeral Home | 1375 Market Ave N Canton, OH. 44714 | (330) 455-5235 |
| Formet-Clevenger & Gordon Fnrl | 1803 Cleveland Ave Nw Canton, OH. 44709 | (330) 456-4766 |
| Heitger Funeral Services | 6874 Stockbridge Street Northwest Canton, OH. 44718 | (330) 499-4906 |
| Jones Memorial Funeral Svc | 440 Wallace Ave Se Canton, OH. 44707 | (330) 452-8282 |
| Karlo-Feucht Funeral Home | 5000 Everhard Rd Nw Canton, OH. 44718 | (330) 494-9644 |
| Kreighbaum-Sanders Funeral Home | 4041 Cleveland Ave Sw Canton, OH. 44707 | (330) 484-2525 |
| Lamiell Funeral Home | 1353 Cleveland Ave Nw Canton, OH. 44703 | (330) 456-7375 |
| Reed Funeral Home | 705 Raff Road Sw Canton, OH. 44710 | (330) 477-9721 |
| Rhoden Memorial Home | 729 Cherry Ave Ne Canton, OH. 44702 | (330) 455-7944 |
| Rossi Funeral Home Inc | 730 30th St Nw Canton, OH. 44709 | (330) 492-5830 |
| Schneeberger Funeral Home | 2222 Fulton Rd Nw Canton, OH. 44709 | (330) 456-8237 |
| Spiker-Foster-Shriver Funeral | 4817 Cleveland Ave Nw Canton, OH. 44709 | (330) 497-7373 |
| Spiker-Foster-Shriver Funeral | 710 Tuscarawas St W Canton, OH. 44702 | (330) 455-0349 |
| Sunset Hills Memory Gardens | 5001 Everhard Road Northwest Canton, OH. 44718 | (330) 494-2051 |
| Waltner-Simchak Funeral Home | 2257 Mahoning Road Ne Canton, OH. 44705 | (330) 455-0293 |
| Waltner-Simchak Funeral Home | 2257 Mahoning Rd Ne Canton, OH. 44705 | (303) 455-0293 |
| Welch-Sekeres-Lewis Funeral | 2523 Tuscarawas St W Canton, OH. 44708 | (330) 452-4041 |
| Spidell Funeral Home | 13260 Emerson Road Dalton, OH. 44618 | (330) 857-4511 |
| Spidell Funeral Homes | Po Box 257 Mount Eaton, OH. 44659 | (330) 359-5252 |
| Atkinson-Feucht-Shaidnagle | 23 Wooster St Ne Navarre, OH. 44662 | (330) 879-5433 |
| Paquelet Funeral Home | 83 Canal St E Navarre, OH. 44662 | (330) 879-5949 |
| Auble Funeral Home | 512 E Oak St Orrville, OH. 44667 | (330) 682-2966 |
| Gresser Funeral Home | 415 N Elm St Orrville, OH. 44667 | (330) 682-7881 |